Molini di Triora (IM) - tel. 335.57.82.122 Localitą Ortaro - Andagna
Cą di Brigaschi is a wonderful country house in stone surrounded by the green and peaceful Argentina Valley situated in the Ligurian inland, and offers the ideal hospitality to everyone wishes to both savour peace and tranquillity and discover local rural cultures, medieval delightful views or taste the delicious dishes offered by the local cuisine.
Cą di Brigaschi is the right place for everyone who wishes to devote a period of time to himself, deep in a magic and relaxing atmosphere made by nature, peace, art and history.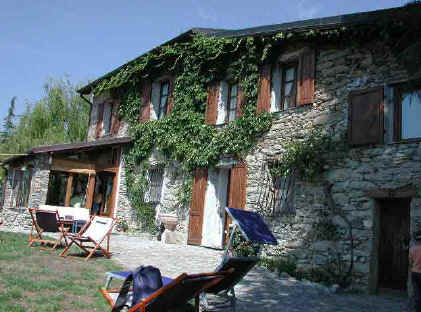 All rooms are welcoming and comfortable with bath and completely independent one another. The porch looks onto the valley and there delicious breakfasts with local typical products are served.
It's possible to stay in the garden basking in the sun, relax on the hammocks under the pines or take up the mountain bikes for wonderful trips or again refresh himself bathing in the Argentina stream or at the seaside.
As well, painting, engraving and acting ,Raku ceramics courses are organised.